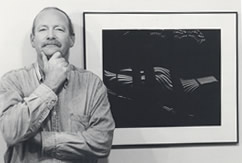 Newsletter Archives

Winter - 2006
2007 Looks like a great year ahead with several shows and workshops being scheduled and a promise of travel and the opportunity to make some great new photographs.

My first scheduled show of the year opens on Friday, January 19th at John Kitt's 422 gallery in Phoenix. The show features some of my big color photographs, some 16x20 and 20x24 black and white photographs, and my newScotland Platinum Portfolio. There will be a second reception on February 16th. So if you are in Phoenix come join us for the fun.

On March 23-25 I will be co-teaching an Arca-Swiss Workshop with Rod Klukas. These are always great workshops for beginner or veteran to add to your view camera skills, have some fun, and make some good images. Contact Rod at: 480-206-4770/800-777-6627 to sign up.

On April 19-22 I will be co-teaching a special Platinum Workshop with Kim Weston at Wildcat Hill in Carmel. It is always a joy to work at Edward Weston's famous home where Kim, his wife Gina, and son Zach now live. For more information and to sign up contact: gina@kimweston.com.

On June 15-17 I'll also be co-teaching a Large Format Workshop with Kim working at Wildcat and the Carmel area. It is always fun to work with the 4x5 or 8x10 camera, so bring yours or borrow one of our Arca-Swiss cameras for the workshop.

On July 19-21 I'll be in Santa Fe, New Mexico for the APIS (Alternative Photographic International Symposium) put on by Bostick & Sullivan. Kim Weston will be one of the speakers at the event. Register at www.bostick-sullivan.com or call 505-474-0890.

People are already signing up for the 2007 Weston/Efros Scottish Workshop at Hospitalfield on August 3rd-9th. Taking this workshop is the experience of a lifetime and enrollment is limited, so sign up early and make your travel plans. Contact me at 602-973-2321 for more information and to sign up. You can also get more information and see work from our previous Scotland workshops by going to: www.m-reekie.com

As we enter the New Year I want to thank everyone that made 2006 a terrific one. Thanks to Juan Garcia and John Prouty for a great job remodeling my darkroom and making it fun to work in, John Kitts and 422 for making great frames and giving Phoenix a place to see great photography. Thanks to Rod Klukas for his vast photographic knowledge and friendship and for teaching large format photography at Scottsdale Community College.

Thanks to Martin Reekie, Kim and Gina Weston and everyone that attended the 2006 Weston/Efros Scotland Workshop at Hospitalfield and participated in the Scotland Show at 422 in November. It was a great to see such fine work being produced by everyone. Thanks also to Martin Reekie, Malcom Thomson and Colin Ruscoe for their help at the workshop and for sending some truly great prints for the Scotland Show.

Thanks to all the people that bought my photographs, attended workshops, took private tutorials, or visited during the past year.

And thanks to Sue for her love, support and companionship, and for bringing home Buddy, our new 100lb German Shepherd to liven up our home and provide us with lots of exercise.

Here's hoping that you get out and take lots of photographs this year. If you are ever in Phoenix please call and stop by and see us.
Randy