Spring 2005 Newsletter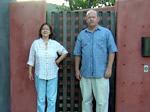 After a very full workshop schedule in 2004, I selfishly spent the first four months of 2005 concentrating on my own work. This included making a show of my Scotland photographs, continuing to work on some limited edition print sets featuring my black & white work dating from 1990 to the present, and filling print orders.
In order to have more time for my work I will be limiting my involvement with the Erica Weston Collection to concentrating on Brett's fine sculpture. There are two more pieces from the Collection that are scheduled to be editioned in Bronze this year and interest in the three pieces already available has been steady. I will still have a lot of good Brett Weston photographs available for sale at reasonable prices.
There were lots of visitors here in May including Charles and Vicki Alkire from Florida, and Matt Hojnacki from Atlanta who spent a week here braving the extreme Arizona heat while checking out the Phoenix Art Scene and making several photographic excursions with me to my favorite places.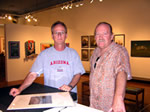 My framer, John Kitts, and I took a recent photo trek to Santa Fe. We stopped in Tucson to see Terry Etherton at Arizona's only true photographic gallery. The Etherton Gallery is worth seeing with a large selection of contemporary and vintage photographs.
When we reached Santa Fe, we stayed with Erica Weston where John made some photographs of her great contemporary house while I visited
wiith Erica.
We visited the Andrew Smith Gallery in Santa Fe, where I visited with my friend John Boland and saw a some great vintage Edward Westons. We
had lunch in town during a great rainstorm, and later Erica treated us to a fine homemade dinner. When we left Santa Fe the temperature was 57 degrees and when we got back to Phoenix it was 114!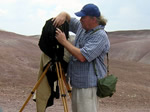 On the way back to Phoenix I was able to use my Arca-Swiss to make some landscape photographs in several interesting places. Even though most of my work tends to be abstract, I always enjoy the challenge of working in the big outdoors.
John Kitts will be opening his 422 Fine Furniture & Framing showroom later this month. He will feature his great furniture along with some great photography and other art. John is definitely the best framer I have ever worked with. If you need great frames, then John is your man, and if you make it to Phoenix, make sure you make it a point to see his showroom.
I am teaching an Arca-Swiss Workshop with Rod Klukas in Flagstaff, Arizona on July 29, 30, and 31st. It is a great workshop to brush up
on using the view camera and learning what is new with Arca-Swiss.
I am also teaching a Large Format Workshop with Kim Weston at Wildcat Hill on September 23-25. Workshops at Wildcat are always a fantastic experience. Check www.kimweston.com for details on this and other workshops that Kim and Gina give.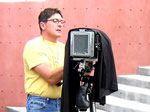 I also have some private tutorials scheduled. These one-on-one tutorials are a good way to make quick progress with using your camera or learning to make fine prints. We have great winters here in the Southwest and lots of places to take photographs, so keep checking my website for more workshops to be held when our weather cools off.
Please contact me if you have any questions and let me know if you are ever in the Phoenix area and would like to visit. I always love to show and look at photographs.
Randy