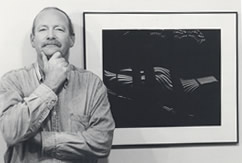 Newsletter Archives

Winter 2003 Newsletter
Welcome to the New Year!

High on the list of events for 2004 are the workshops that I teach with my good friend Kim Weston. In addition to the incredible Kim Weston Workshops that Kim and his wife Gina put on at Wildcat Hill, we are doing two Weston/Efros workshops in Scotland in August-September (organized by Martin Reekie) and our 2nd Annual Weston/Efros Arizona Workshop in Phoenix on November 5-7, 2004.

The editions in bronze of three of Brett Weston's marvelous sculptures have been very successful and the fourth is being finished at this time with more in the works. Thanks to Erica Weston for sharing her father's work with us and to Arizona Bronze for partnering with us to make these fine sculptures.

My framer, John Kitts, has really helped me with the presentation of my work. It is a joy to take my photographs to him for framing. The custom milled wooden frames he makes are the best. He has the ability to design a special frame that highlights a particular photograph or to make quantities of a certain frame to be used for gallery shows. He also designs and builds great custom furniture.

New to me is a Rollie SL66 camera. I have always wanted one to use since I was Brett's assistant and saw the daily work that he produced with this fine camera. It is providing a nice change of pace from the Arca-Swiss view camera I use for most of my work. Arca-Swiss is now one of the sponsors for our Weston/Efros workshops and is a camera that I can highly recommend.

I have to thank some of the people that made last year such a success: Kim and Gina Weston, Erica Weston, Ernest McIntyre of ArtsAZ, John Kitts of 422 Fine Furniture & Framing, Arizona Bronze, Rod Klukas of Photomark and his Scottsdale Community College class, Annie Waters and the Bank of America, Glen Lineberry of the Bentley Gallery, Roger Palmenberg and the Imageworks gang, all the people that attended the workshops and my private tutorials, those who bought my photographs, and of course the focus of my life, Susan Reynolds.

I am available to give private tutorials in most areas of fine art photography, including black and white printing. A lot of progress can be made in these intense one-on-one sessions. You can come to me in Phoenix or I can come to you.

Please fill out the Contact Page on this website so I know what you are interested in. Feel free to correspond with me and if any of you are ever in Phoenix please come and visit. I love looking at photographs and talking photography.