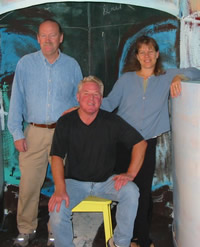 (From left to right) Randy, Kim and Gina

Randy Efros freely admits that he was able to fast-forward his photographic skill by working with, learning from, the Westons. "You can read all the books printed, sit in all the classes offered and make all the photos you can afford," Efros says, "and not progress as fast as you can by spending one weekend with a master mentor." What he learned from Cole and Brett Weston, he now shares teaching at workshops with Kim Weston.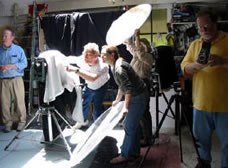 Kim and Gina Weston open their Wildcat Hill home to workshop participants on a regular basis. It is truly "the little house with the big mood." Great care has been exerted to keep the house the same as when Kim's grandfather, Edward Weston, lived and worked there.
If you're interested in attending a Weston-Efros workshop, you can find out more at www.kimweston.com or by emailing Kim or Gina at gina@kimweston.com.
Randy Efros' reputation as an educator of excellence has presented him with opportunities to not only lead workshops but teach at the Academy of Art in San Francisco, to lead his own workshops and to privately tutor photographers. Sessions can be designed for your personal needs and desires in the areas of silver printing, advanced black and white, medium and large format cameras and fine art color photography.
For information on Efros' workshops or tutorials, please register on our Contact Page and indicate your interest in the Remarks Section.